Why Pine Ridge
When you select Pine Ridge Business Park for your new business home, you have access to a host of amenities designed to make your business life more productive and enjoyable. Pine Ridge Business Park has something for everyone including immediate access to over 1,000 hotel and motel rooms, numerous restaurants, office supplies, dry cleaners, as well as a regional shopping mall. Recent enhancements to Pine Ridge Business Park West include renovations of ponds with water features, walking and running trails, and a nature reserve.
Prime Location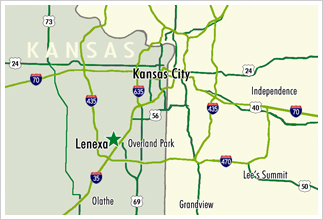 Pine Ridge Business Park is located on more than 240 acres near the heart of Johnson County, Kansas. The east and west sections sit aside Interstate 35, the major north/south expressway in the Metropolitan area and part of the NAFTA highway system.
Additionally, Pine Ridge Business Park's location between 75th & 87th Streets, two main east/west arteries, and its immediate access and visibility to Highway 69, provide unparalleled accessibility to all parts of the Metropolitan area.
Technology & Connectivity
As business requirements and uses change, Pine Ridge Business Park continues to reinvent itself. Technological advances and infrastructure are at the top of the list. We have maintained an industry-leading role through innovation by providing multiple services as evidenced below.
Fiber optic connections from multiple vendors supplied by AT&T, Consolidated Communications, Sprint, Verizon Business, Spectrum and Google Fiber
Multiple broadband and DSL service connections
Service from two separate electrical substations
A utility infrastructure system which allows Pine Ridge Business Park to attract even the most technologically-advanced companies
Amenities
In addition to the many tenant services available in the Park, the abundance of nearby retail, services and recreational options make Pine Ridge Business Park the ideal location for your business.
Over 1,000 hotel and motel rooms nearby
A large number of fast-food, casual and fine dining restaurants serve the immediate area
Office supplies, quick print facilities, and a variety of business services
Multiple child day care centers are located with-in one mile of Pine Ridge Business Park
Several recreational parks are located within walking distance from Pine Ridge Business Park, including Maple Hills Park with its running track, softball fields, benches and large open areas maintained in first class condition
Some of the best shopping in the metro, including Oak Park Mall